Granite comes in a stunning array of color options, and each slab we fabricate is unique.
Granite has been a popular option for home features like countertops, fireplace surrounds, and feature walls for many years. It's prized for its durability and versatility, but many homeowners don't realize just how diverse granite can be. At Cutting Edge Stoneworks, we know there's a shade and pattern of granite to suit just about any design style or home aesthetic, and we enjoy helping our customers find the right ones for their homes.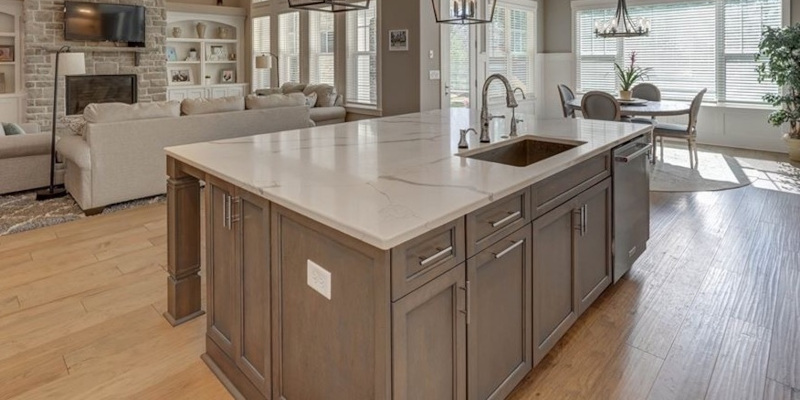 Granite colors are determined by the unique combination of minerals present in the stone, and even within a single slab, there can be a great deal of variation. Granite colors are typically classified under overarching shade categories, such as:
White – True white granite is rare, and most slabs contain speckling or veining of other colors. Gray, black, and brown are common, but slabs that include other colors like reds, greens, and blues are also possible.
Black – The dark base of black granite makes it a popular statement option. Veining or speckling is most often gold, brown, or silver, but other options are possible.
Gray – Gray granite colors can range from soft, foggy gray to deep charcoal, and because it's in the neutral family, it can suit many different design styles.
Brown – Shades can range from deep, chocolatey brown to soft tan and often include speckling or veins that are darker than the base shade.
Green – Minerals like mica and amphiboles lend their verdant hues to green granite slabs. Green granite colors can range from soft pastels to deep emerald and forest green.
Blue – This is one of the rarer granite colors, but shades can vary from soft to deep blue, and lighter veins and speckling are common.
Red/Pink – Known for the rich and vibrant feel it can add to any room, red or pink granite often has black, white, or gray veins or speckles.
If you'd like to learn more about the granite colors we're able to source for you, contact our office. We look forward to helping you find the right option for your Charlotte, North Carolina home.